So, it's cold and it's late and you haven't planned anything for dinner and you really aren't that hungry! What can you do? Just pick up some lettuce, bacon, eggs, and country bread at the corner store and make this nutritious, comforting salad in less than half an hour; pour a couple of glasses of red wine and you have a simple dinner for two! What makes this salad so delicious is the warm eggs mixing with the red wine vinaigrette. It is important that it be served warm!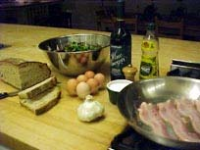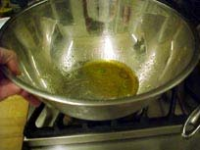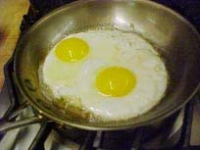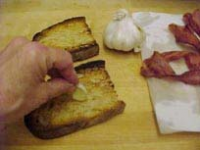 Ingredients
1 clove garlic
olive oil
4 slices thick-cut bacon
4 oz. mixed salad greens or frisee
2 Tbs. good quality red wine vinegar
4 Tbs. extra virgin olive oil
1 Tbs. bacon fat
1/2 tsp. coarse salt
1/4 tsp. freshly ground black pepper
2-4 large eggs
Directions
Toast the bread on both sides under the broiler, rub with a cut clove of garlic and drizzle with olive oil. When cool enough to handle, break into 1-inch pieces.
Fry the bacon until crisp. Drain on paper towels. When cool enough to handle, break into 1-inch pieces.
Wash and dry the lettuce and break into 1-inch pieces as well.
In a small non-stick frying pan, fry the eggs over medium heat until the whites are firm. (One egg is fine per person, I prefer two.)
Mix the red wine vinegar with the salt in the bottom of a large metal mixing bowl. Add the bacon fat, olive oil and pepper. When ready to serve, warm the bowl over a medium flame until the vinaigrette is bubbly. Remove from the heat and toss in the lettuce, bread, and bacon. Mix just enough to coat the greens. Immediately, pile the salad on warmed shallow bowls and top with the eggs. (The eater mixes the egg into the salad before eating).