Here is a recipe taught to us by Elka many years ago. It is fresh and spring-like!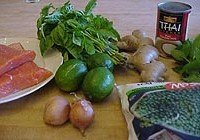 Ingredients
1-1/2 lbs. fresh peas (3 lb. before shelling)
4 to 6 oz. salmon filets or steaks
vegetable oil
coarse salt
freshly ground black pepper
1 Tbs. butter
1 shallots, finely chopped
8 oz. unsweetened coconut milk
1 Tbs. grated ginger
2 Tbs. chopped fresh basil
2 Tbs. chopped fresh mint
juice of 1- 1/2 limes
Directions
Drop the peas into boiling salted water for 6 to 7 minutes and run under cold water. (No need to precook frozen peas.)
Rub the salmon with oil and season with salt and pepper.
Preheat the oven to 450 degrees.
Heat saucepan with the butter. Add shallots and cook for 3-4 minutes to soften, stirring from time to time. Stir in the coconut milk, ginger, and cook another minute. Add cooked peas, basil, mint, and lime juice, and cook for about 2 minutes longer, until peas are tender. Taste and add salt and pepper to taste. (If the mixture gets too thick to be a sauce, add a cup of water and cook another 2 to 3 minutes.)
Heat an ovenproof frying pan on top of the stove until smoking hot. Carefully place the salmon pieces light side down on the pan and sear until the bottom of the pieces of salmon is golden. Put the entire pan of salmon in the preheated oven to finish cooking the fish. The fish is ready when it is firm to the touch. To serve, put pea mixture on plates and turn over the salmon on top of the peas so the golden side is up.