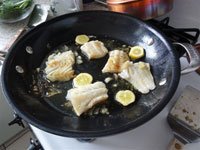 Ingredients
6 filets of Sea Bass, halibut or cod, 5 to 6 ounces each
1 Meyer lemon, zested
1 tablespoon thyme leaves
2 tablespoons parsley, chopped
Meyer Lemon Salsa (below)
Savory Crème Fraiche (below)
Directions
Season the sea bass with the lemon zest, thyme and parsley. Cover and refrigerate 1 hour or overnight.
Remove the fish and season with salt and pepper.
Heat a large non-stick sauté pan over high heat for 2 minutes. Swirl in the olive oil. Carefully lay the fish, skin side up in the pan and cook 4-5 minutes until lightly browned. Turn the fish over, lower heat to medium-low, and cook 4-5 more minutes until almost cooked through. Be careful not to overcook the fish. When it's done, it will begin to flake and separate a little and the center will be slightly translucent. It will continue to cook when it's taken off the heat.
Serve with Meyer Lemon Salsa (recipe below), Savory Crème Fraiche (recipe below) and Potatoes with Meyer Lemon Vinaigrette
---
Savory Crème Fraiche
Ingredients 
2 teaspoons thyme, savory or chervil leaves
1/3 cup crème fraiche
Kosher salt and pepper
Directions
Using a mortar and pestle, pound the herb leaves to a paste. Add the crème fraiche and combine well. Season with salt and pepper to taste.
---
Meyer Lemon Salsa
Ingredients
2 large meyer lemons
1 tablespoon diced shallot
3-4 tablespoons olive oil
1/2 teaspoon minced thyme
1/2 tablespoon minced mint
1 tablespoon minced parsley
Kosher salt and pepper to taste
Directions
Cut both ends off the lemons. Place the lemons cut side down on a cutting board. Follow the contour of the fruit with your knife, remove the peel and white pith, working from top to bottom and rotating fruit as you go. Then, one at a time, over a bowl, hold each lemon in your hand and carefully slice between the membranes and the fruit to release the segments in between. Discard the seeds and reserve the juice.
Place the lemon juice in a bowl and add shallots and a pinch of salt. Let sit for 5 minutes. Slowly whisk in the olive oil. Stir in the segments, thyme, mint and parsley. Taste for salt and pepper. Add more olive oil if it is too tart.