This is a simple breakfast dish made in Shanghai of a crepe spread with an egg a couple of sauces and herbs and rolled. In Shanghai the crepe or omelette is rolled around a savory doughnut; I found it worked with a small piece of herb foccacio. Serve it with green tea for a fun breakfast or snack.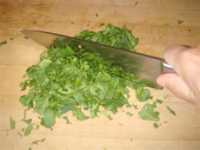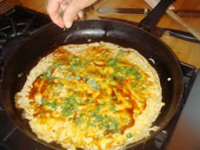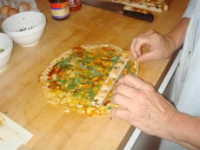 Ingredients
2 eggs
1/2 cup flour
1 cup milk
Vegetable oil for the pan
6 eggs
1/3 cup minced green onions (or garlic chives)
1/3 cup minced fresh cilantro
4 Tbs. Hoisin sauce
4 tsp. hot chili sauce
5 oz. plain soft foccacio, cut into strips 8 inches long and 1/2 inch wide and tall
Directions
To make the crepe batter, mix together the 4 eggs with the flour and milk in a bowl with a whisk or a blender.
To make a crepe, coat a 10-inch non-stick pan with a teaspoon of oil and place over a medium high heat. When the pan is hot, pour in enough crepe batter to make a thin film on the bottom of the pan, swirling it all around. Let this cook a minute or two until set. Then break one egg into the center of the crepe. For a few minutes continually spread the egg around on the crepe while it cooks. Then, turn the crepe over so the egg is on the bottom.
On top of the crepe put a spoonful of Hoisin and a little spoonful of chili sauces and spread them around in an even layer. By now you can reduce the heat under the pan to almost nothing. Sprinkle the sauces with onion and cilantro. Slide the pancake onto a counter, put a piece of foccacio along one end and roll tightly as shown. Cut off and discard the uneven ends and cut the rolled pancake into four. Serve warm.
Serves 6.
(Thank you Auntie Mary for teaching me this recipe.)