I don't know about you, but I always have masses of unidentifiable cheese in my refrigerator. For this recipe you can guess at amounts — you need some cooked greens like spinach, plenty of soft white and another other cheeses (not blue), and four eggs. This goes into a pan lined with filo and baked in the oven. It can be served as a simple luncheon or supper dish. Have fun with it!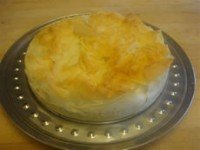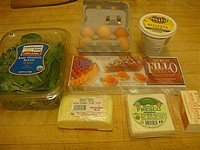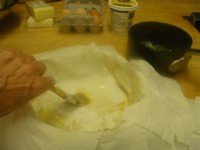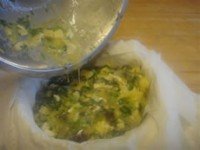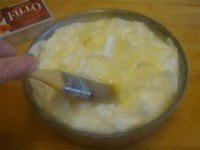 Ingredients
About 1 lb. clean greens like spinach, lettuce, and arugula
1 bunch green onions, white and green parts, chopped
About 2 lbs. leftover white or yellow cheese including feta, ricotta, halvarti, Cheddar, and Monterey Jack
4 eggs
1/2 cup dried breadcrumbs
1/2 lb. filo pastry sheets
4-6 Tbs. melted butter
Directions
To cook the greens chop them coarsely and drop them into a large of rapidly boiling salted water. When they are wilted, drain them in a colander. Into the pan, put a tablespoon of olive oil or butter and cook the green onions over moderately high heat. Toss in the greens and cook, stirring, for another minute.
Transfer the greens to a bowl, add the mixture of different cheeses coarsely chopped, the eggs, and salt and pepper to taste and mix well.
Line a 9-inch spring form with the filo sheets in a spiral so that the bottom and sides are covered. To get the filo sheets to stick together, keep dabbing them with the melted butter. Sprinkle the breadcrumbs on the bottom of the inside of the pie. Fill with the mixture of greens and cheese. Loosely, lay over the sheets of filo in a spiral manner dabbing now and then with butter. Bake in a preheated 350 degree oven for 45 minutes. Cover with foil and bake another 15 minutes. Serve warm.
(Recipe adapted from VOGUE AUSTRALIA.)
Serves 6.