Whether you live in San Francisco or are visiting, the best way you can spend Saturday morning is shopping at the Ferry Plaza Farmers Market. It will always lift your spirits even on a drizzly day. There is always something interesting to learn from the farmers and always something interesting to cook. A couple of years ago, I published two easy recipes for this website Sweet Red Peppers stuffed with Tomatoes; and Baby Pumpkins stuffed with Mascarpone. And, here are two more recipes I made with autumn produce from the Farmers Market. Sweet Red Peppers stuffed with Fromage Blanc and Herbs; and Baby Bear Pumpkins filled with Ribolita (a Cranberry Bean Soup layered with Levain Bread and cheese).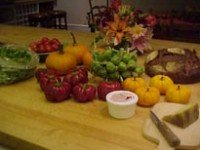 Ingredients
8 oz. fromage blanc (or soft Mozzarella cheese)
32 Tbs. minced parsley (or marjoram)
coarse salt freshly ground black pepper 1 bunch arugula (or watercress)
1 Tbs. red wine vinegar
2 Tbs. extra virgin olive oil
Directions
Wash the peppers. Cut the tops off and remove the seeds and veins with a grapefruit knife.
In a small bowl mix together the cheese, herbs and salt and pepper to taste. Fill each of the peppers with the cheese mixture. Place these in a baking pan in a 350 degree oven and bake until the peppers are soft, about 40 minutes.
Remove the peppers from the oven and let cool slightly while you dress the salad. Coat the greens with a mixture of vinegar and olive oil, seasoned with salt and pepper. Arrange the greens on six individual plates and put a pepper in the middle of each.
Serves 6.