The teachers of Tante Marie's and I spent a marvelous week learning about local cuisine in Chaing Mai with Naomi Duguid and Jeffrey Alford. Only, the local cuisine depended on such local ingredients that sometimes we didn't even know what they were. So, here for you is a simple Thai menu that I have developed using the concepts from our cooking week in Thailand, but ingredients that can be found in most supermarkets. The best part is that from one easy-to-prepare menu you can make another two meals. It's delicious, healthful, and fun!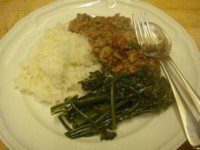 Thai Sticky Rice
Ingredients
2 cups raw Thai stickey rice (or short white rice)
Water
Directions
The best is to soak the rice in cold water to cover by about 3 inches overnight. Or, you can use the quick soak method which is to cover the rice with cold water by about 3 inches and bring to a boil. Turn off heat, cover, and let rest 15 minutes. Drain.
To steam, put the rice in a cloth-lined steamer over rapidly boiling water and cover with a lid. Let steam until the rice is shiny and tender, about 20 minutes. Remove from heat and let stand, covered, 5 minutes more.
---
Tante Marie's Spiced Chopped Pork (Nam Prik Ong)
Ingredients
2 to 4 dried red chilies
6 small shallots
4 garlic cloves
4 to 6 cilantro stems
1/2 tsp. coarse salt
5 garlic cloves, sliced
3 Tbs. vegetable oil
1 tsp. fermented fish (pla ra) or anchovy paste
1 drived soy bean disk (tau nao), toasted and ground or 2-1/2 Tbs. toasted brown rice flour
1-1/4 lb. fatty pork shoulder, coarsely ground in food processor
1 cup water
2 tomatoes, coarsely chopped
2 green onions
1/4 cup minced cilantro
1/2 green cabbage, broken into leaves
1/2 cucumber, sliced
1/2 bunch mint
1 cup mung bean sprouts
Directions
To make the chili paste, either use a mortar and pestle or a food processor to grind together the dried chilies, shallots, garlic, cilantro stems, and salt.
To fry the garlic, heat the oil in a wok, and put in the sliced garlic, fry until barely golden, and remove with a slotted spoon to drain on paper towels.
To cook the meat, into the warm oil, put the chili paste, and cook stirring until it begins to smell fragrant and color slightly. At this point, stir in the anchovy paste and toasted ground soy bean disk or rice flour. Cook stirring for another couple of minutes. Then, stir in the pork and cook, trying to break up the lumps, until the meat goes from pink to grey. Add the water and cook, stirring, until the flour and liquid looks like gravy. Stir in the tomatoes and cook another few minutes. Taste and add salt if needed. Transfer to a bowl and garnish with the cooked garlic, green onions, and cilantro.
Note: To toast rice flour (brown or white), just put it in a small dry frying pan and stir over medium-high heat until it colors.
Serve this pork with sticky rice and steamed green vegetable and a basket of raw fresh vegetables and herbs (the cabbage, cucumber, mint, and sprouts).
Serves 6.
Copyright © Mary S. Risley
(Recipe adapted from Farina Achuck)
---
Tante Marie's Steamed Broccolini
Ingredients
2 bunches brocollini
3 Tbs. vegetable oil
1/2 tsp. coarse salt
Directions
To make this simple green vegetable, trim the stems of the broccolini and discard. Cut the stalks in half. Place them in a wide pan with 1/2 inch of water. Cover, and steam until the stalks are tender when pierced with a fork. Remove to a warm platter, and sprinkle with oil and salt. (In Chiang Mai, the green vegetable that was so delicious was called Morning Glory and most often it was cooked as above with the addition of crispy pork rinds.)
Note: This menu takes no longer than 30 minutes to prepare and serves 6 people. Fresh tropical fruit would be suitable for dessert, or Haagen Daz Mango Sorbet, or Coconut Pineapple Ice Cream.
However, if you are going to serve it for 2 or 3, you can save the rice, pork, and broccolini and reheat it the next day to serve on individual plates (as shown) with a one-egg mini omelette on top. To make the egg, simply fry gently an egg with a sprinkling of chopped green onions and mix it to incorporate yolk and white, turn, to cook gently on the other side. This is a typical northern Thai breakfast served with hot chili sauce.
If you still have leftover rice, pork, and broccolini, and sprouts, you can make a supper with it by heating up some good quality chicken stock, and stirring in the leftovers, adding hot chile sauce to taste.
Copyright © Mary Risley