Here is recipe taught to us by Anna Tasca Lonza of Regaliali in Sicily. We had a fabulous week with her learning about her native cooking.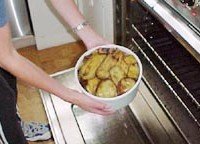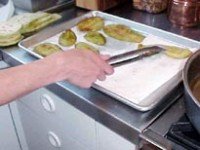 Ingredients
2 large eggplants, peeled and sliced lengthwise in 3/8 inch slices
vegetable oil for frying
4 cups fresh tomato sauce (see recipe below)
1 lb. perciatelli or capellini pasta
3 Tbs. fresh oregano
3 Tbs. fresh basil
1 cup mixed grated Parmesan, Caciocavallo and Pecorino
freshly ground black pepper
Directions
At least 1-1/2 hours before serving, place the eggplant slices in a colander and sprinkle with salt. Let stand for 30 minutes.
Blot the eggplant slices dry. Heat 1-inch of oil in a large saute pan over medium-high heat. Fry the eggplant slices until golden brown and drain on paper towels.
Bring a large pot of water to the boil. Add 1 Tbs. salt and the pasta, cook, stirring to separate the noodles, for about 3 minutes until the pasta is al dente. Drain and return the pasta to the pot. Add 3 cups of the tomato sauce, the fresh herbs, the cheese and salt and pepper. Mix well. Taste and adjust the seasoning.
Preheat the oven to 350 degrees. Line a 1-1/2 qt. souffle dish with the eggplant, making sure there are slices to overlap the top of the pasta. Fill the dish with the sauced pasta, cover with the eggplant. Place the timbale in the preheated oven for 25 minutes. Remove from the oven. Let cool 10 minutes, before turning over onto a warmed serving dish. Serve with the remaining tomato sauce on the side.
Serves 8

---
Smooth Tomato Sauce (Salsa di Pomodora Passata)
Ingredients
1 large onion, finely chopped
2 cloves garlic, minced
1/4 cup olive oil
1 tsp. sugar
1/2 cup basil leaves
coarse salt and freshly ground black pepper
Directions
If using plum tomatoes, cut them in half lengthwise. If the tomatoes are large, cut them into quarters. Put the tomatoes in a medium, non-reactive, saucepan. Cover and cook for 15 to 20 minutes, until soft. The length of the time the tomatoes take to cook will depend on their variety and ripeness. Once they are soft, pass the tomatoes through a food mill or a strainer.
Saute the onion with the garlic in the olive oil for 2 minutes, until soft. Add the tomato puree, sugar, basil and salt and pepper to taste. Cook for at least 20 minutes, until the sauce is reduced and thickened.
Makes 3 cups.
Recipe adapted from THE HEART OF SICILY by Anna Tasca Lanza