I look forward every year to making this soup. I developed the original recipe for a cooking demonstration at the San Francisco Mycological Society's Annual Fungus Fare. It is held every year on the first Saturday in December. Thanksgiving is also when you start to see the first of the local chanterelles appearing in the woods. If you can't find chanterelles use crimini mushrooms instead. If you don't want to use porcini powder I quite often substitute finely chopped herbs such as parsley and thyme.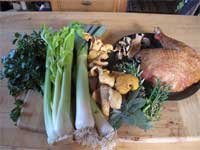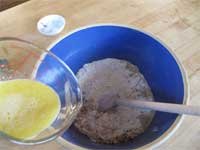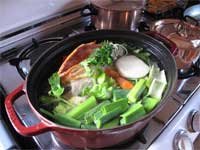 Ingredients
Soup
2 Tbs. olive oil
2 leeks, white and pale green parts only, sliced
2 carrots, peeled and sliced
2 sticks celery, sliced
4 cloves garlic, sliced
½ lb. chanterelle mushrooms, cleaned and torn into pieces
2 quarts turkey (or chicken) stock
Course salt and freshly ground pepper to taste
2 cups cooked shredded turkey
1 Tbs. minced parsley
2 tsp. minced thyme
1 tsp. minced marjoram
Dumplings
1 cup self-rising flour
1/4 cup breadcrumbs
1/2 oz dried porcini mushrooms, ground to a powder in a spice grinder
1 egg
2 Tbs. butter, melted
1/3 cup milk
Directions
Heat the olive oil and add the leeks, carrots and celery. Cook over a medium heat until the vegetables soften. Do not allow to brown. Add the garlic and the mushrooms and cook for a couple of minutes. Add the turkey stock and bring to a boil. Season with salt and pepper. Simmer for 10 minutes.
Meanwhile make the dumplings. Place the flour, breadcrumbs, salt and porcini mushroom powder in a mixing bowl. Season with black pepper.  Mix the egg, melted butter and milk together. Add to the dry ingredients and mix to a stiff paste. Form the dumpling mix into small balls.
Add the turkey meat and the chopped herbs to the soup. Check the seasoning. Drop in the prepared dumplings. Bring back to a boil and cover with a lid and cook for a further 15-20 minutes or until the dumplings are done. They will puff up and be firm to the touch. Serve hot in bowls. Serves 6.