How about making an open pie with Thanksgiving leftovers? In France they might call it a Galette; or you may want to present it as Turkey Pizza to the youngsters. Either way, it is a fun and delicious use of leftovers from Thanksgiving dinner!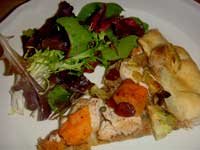 Ingredients:
Dough
1 ½ cups flour
½ tsp. sugar
½ tsp. salt
½ lb. cold butter (2 sticks), cut in 1-inch pieces
1/3 cup milk
1 Tbs. apple cider vinegar
Filling
1 cup turkey stuffing
1 ½ cups cooked turkey, in pieces
1 cup cooked yams or winter squash
1 cup cooked green vegetables such as Brussel sprouts (sliced) or
Red Russian kale (coarsely chopped)
½ cup turkey gravy
Coarse salt and freshly ground black pepper
Instructions:
To make the dough, place the dry ingredients in the container of a food processor with the butter. Process this until the butter is the size of large breadcrumbs; with the machine running pour in a mixture of milk and vinegar and continue to run the machine until the dough comes into a ball. Wrap the dough in wax paper, and chill for a few minutes if soft.
To roll out the dough, place it on a lightly floured surface and roll gently away from you. (The idea is to move the dough forward and not to press it down into the table.) Continue rolling and turning the dough making sure there is enough flour on the table, the dough, and the rolling pin to keep the dough from sticking. When it is a large round circle, fold it in half, then half again to transfer it to a baking sheet, or preferable a large pizza pan. Then, unfold the dough into a round.
Preheat the oven to 425 degrees.
Working quickly so as not the warm up the dough. Spread it first with a thin layer of stuffing, then a thick layer of white and dark turkey meat. Season this with salt and pepper. Arrange over this the cooked orange and green vegetables; and put spoonfuls of gravy around the top. Brush the rim of the tart with water; fold over the edges to in an overlapping pattern; and press the sides together lightly. Bake in the top shelf of the preheated oven until the bottom crust is golden. Let sit a few minutes before serving on warm plates with green salad. This would also be excellent served with Tante Marie's Cranberry Chutney. Serves 6 to 8.