On my recent trip to Turkey, we ate lucious fresh foods with lots of yogurt, feta, and vegetables. Here are recipes for three easy-to-make dips which you can make and serve together or alone. You can make them up to a week ahead, and they would be great served outdoors before a dinner of grilled fish, chicken, or meat.
Eggplant Dip with Walnuts
Ingredients
1 large eggplant (or 4 small)
2 sweet red bell
3 garlic cloves
Coarse salt
1 cup chopped walnuts, coarsely chopped
1 cup fresh ricotta
2 Tbs. extra-virgin olive oil
1 Tbs. wine vinegar
2 Tbs. chopped flat-leaf parsley
Directions
Prick the eggplant in a couple of places with a fork, and roast it on top of the stove over a high flame, turning when wilted with tongs. When the eggplant is soft, take it off the flame, remove the skin, and crush the interior with a fork.
Cut the peppers into 4 flat pieces and place them on a baking sheet under a broiler. When the skins of the peppers are black, remove the peppers with tongs to a bowl and cover with plastic wrap for 5 minutes to steam the edges. The skins of the pepper should come off easily. Chop the peppers into 1/2-inch dice.
Mash the garlic with a scant half teaspoon of salt. Put the eggplant, peppers, garlic, walnuts, and ricotta in a bowl with the olive oil, vinegar, and parsley. Mix well and add salt to taste.
---
Tante Marie's Cacit (Cucumber Dip)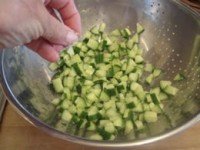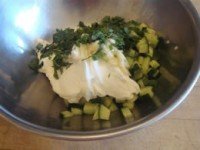 Ingredients
1 English cucumber (or 4 small)
Coarse salt
2 garlic cloves
2 Tbs. minced fresh mint
1 cup Greek-style yogurt
Directions
Cut the cucumber into 1/2-inch dice, put in a stainless steal colander, and sprinkle with salt. Let the cucumbers drain for 1 to 2 hours, to remove excess liquid.
On a board, make a paste of the garlic with the salt. In a bowl, put the cucumbers, garlic, mint, and yogurt. Mix well and add salt to taste.
---
Tante Marie's Hummus (Chickpea Dip)
Ingredients
1/2 lb. chickpeas (or garbanzos), soaked overnight and cooked until tender OR one 15 oz. can of chickpeas, rinsed
4 garlic cloves
4 Tbs. extra-virgin olive oil
2 Tbs. sesame paste (tahini)
Juice of 1 lemon
1 Tbs. water
Coarse salt
Directions
Put the cooked chickpeas in the container of a food processor and process until the chickpeas resemble rough crumbs. Add the garlic, olive oil, sesame paste, lemon juice, water, and a sprinkling of salt. Process the mixture until smooth. Add salt to taste.
All three of these dips can be served with pita bread that has been cut or torn into pieces and crisped in the oven.
Copyright © Mary S. Risley