This is a versatile, easy thing to make for lunch or supper when you don't have much time to shop. You simply take cooked vegetables, like broccoli in the fall or asparagus in the spring, and make a delicious frittata. I like to make it, take it out of the pan, let it cool, and cut it into squares to serve as finger food with drinks. Once you are good at making frittatas try other vegetable combinations such as cooked, sliced new potatoes and roasted red bell peppers. Have fun!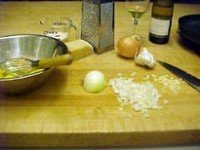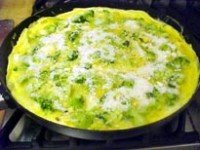 Ingredients
1 lb. broccoli
2 Tbs. butter
2 large onion
1 large clove garlic
1/2 tsp. coarse salt
1/4 tsp. freshly ground black pepper
1/2 cup soft white cheese
12 eggs, beaten with 1 Tbs. cold water
1/2 cup freshly grated Parmesan cheese
Directions
Bring a medium-sized pot of water to the boil. Cut the florets of the broccoli into 1/2-inch pieces, save the stems for another use like soup. When the water is boiling, add 1 Tbs. salt and the broccoli florets. Cook rapidly for about 6 minutes, until the broccoli is tender when pierced with a fork. Drain the broccoli in a colander and let cool.
In a 12-inch non-stick frying pan, cook the onions in the butter until soft (3 to 5 minutes). Add the garlic and cook another minute. Spread the broccoli over the onion mixture. Sprinkle generously with salt and pepper. Cover with the white cheese. Pour over the beaten eggs.
With a rubber spatula make sure the egg goes throughout the broccoli mixture on the bottom of the pan. Let cook over medium-high heat so that a crust forms on the bottom of the pan. With a fork lift the edges of the frittata to let the runny eggs go underneath. When the whole mixture is set, cover the top with the Parmesan cheese and run under the broiler briefly until the top is golden. Serve in wedges for lunch or supper or cut into squares for hors d'oeuvres.
Copyright © Mary S. Risley
Makes twenty five 1-inch squares.