Old fashioned dips are definitely coming back in fashion. Here is a delicious and easy dip for the holiday season!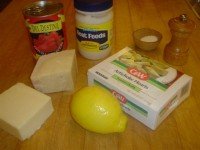 Ingredients
1 8-oz. pkg, frozen artichokes
1/2 cup chopped Pimenton (red peppers canned with olive oil)
1 cup mayonnaise
1 cup Monterey Jack cheese
1/2 cup freshly grated Parmesan cheese
1 Tbs. fresh lemon juice
Few grains of cayenne pepper
Salt and pepper to taste
Crackers or toasted bread rounds
Directions
Preheat the oven to 350 degrees.
Place the chopped artichoke hearts in a large bowl. Stir in the
mayonnaise, Monterey Jack, Parmesan, and lemon juice. Season with cayenne, salt, and pepper.
Transfer the mixture to a shallow baking dish. Bake, stirring once
or twice, until hot and bubbly, about 15 minutes. Remove from the oven and serve hot with crackers. (You can keep the artichoke dip warm on a hot plate or in a chafing dish.)
(Recipe adapted from CHRISTMAS FAMILY GATHERINGS by Donata Maggipinto)
Serves 12