This recipe is a perfect vegetarian or vegan starter for an autumn dinner (with mixed greens served on the side). Or, it can be served with roasted or grilled chicken and a green vegetable to make a main course. It can be made ahead and reheated. I like to press the warm mixture into a bowl and unmold it onto warm plates.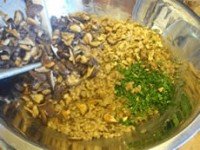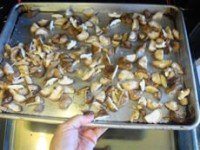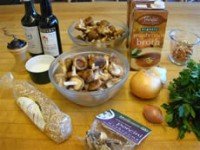 Ingredients
1/2 oz. dried porcini mushrooms (optional)
1 cup boiling water
4 Tbs. extra virgin olive oil
1 medium onion, coarsely chopped
1 garlic clove, minced
2 cups farro, spelt, or wheat berries (about 10 oz.)
5 cups vegetable or mushroom stock
1-1/2 lb. shitake mushrooms, stems thinly sliced, and caps halved or quartered, depending on size
4 Tbs. extra virgin olive oil
coarse salt, freshly ground pepper
3/4 cup walnuts, coarsely chopped
1/3 cup flat-leaf parsley, minced
1 shallot, finely chopped
1/2 cup sherry vinegar
3/4 cups extra virgin olive oil
1 tsp. chopped thyme
Directions
For added flavor to this dish, pour hot water over the dried mushrooms and let sit for 20 minutes. Squeeze the liquid out of the mushrooms and chop finely. The liquid can be added to the cooking liquid.
In a saucepan, cook the onions with a sprinkling of salt in the olive oil until soft, stirring occasionally. Stir in the garlic and continue cooking and stirring another minute. Add the farro and the stock with the dried mushrooms. Bring to a boil and simmer gently until the farro is tender, about 20 minutes (or 45 if using regular wheat berries). Drain if there is excess liquid.
While the farro is cooking, toss the shitake with the olive oil and salt and pepper on a baking sheet. Roast in a 400 degree oven until tender and browned around the edges, about 20 minutes.
To make the vinaigrette, in a small bowl, cover the shallots with the sherry vinegar and let stand for 10 minutes. Add the thyme and the rest of the olive oil. Season with salt and pepper.
Return the farro to the saucepan and toss with the shitake, walnuts, parsley and sherry vinaigrette. Taste and adjust the seasoning. To serve, press about a cup of the mixture into a small bowl and invert onto a plate (with green salad on the side).
Serves 8.
---
Salad
Ingredients
16 oz. green and red lettuces, washed and torn
2 Tbs. red wine vinegar
6 Tbs. extra-virgin olive oil
coarse salt and freshly ground pepper to taste
Directions
Mix the lettuces in a bowl. In a large spoon, dissolve the salt with the wine vinegar. Sprinkle this over the greens, then sprinkle over a the olive oil and grind over the pepper. Toss the salad and serve.
Serves 8.