Bacon makes everything taste good. I love the baby kale from Earthbound Farms–I use it like lettuce.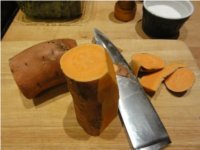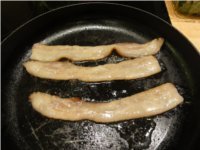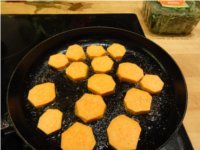 Ingredients
3 or 4 slices thick-cut bacon
1 large yam or sweet potato, peeled and cut in rounds
2 1/2 oz. baby kale (or spring mix)
2 tbs. olive oil
1 Tbs. sherry (or red wine) vinegar
coarse salt and freshly ground pepper
Directions
In a wide non-stick pan, fry the bacon until brown and crisp. Drain on paper towels and pour all but a Tbs. of bacon fat into a measuring cup. In the bacon fat, cook the sweet potato, sprinkled with salt and peepper, on both sides until tender when pierced with a fork. Remove from the heat.
In a medium-large metal bowl heat 1 Tbs. of the bacon fat with the olive oil and vinegar directly over a high burner, when quite warm, remove the bowl from the heat and toss in the bacon, sweet potato, and greens. Season with salt and pepper to taste and serve on warm plates.
Serves 2.
© Mary S. Risley