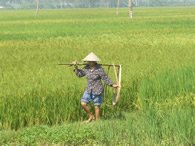 From the moment we arrived in Hanoi, I was hooked. The ride in the taxi from the airport, horn blaring, swept us past scooters laden with crates of eggs, baskets of pigs, and past fields of waving rice with women tending it in traditional conical hats. Hanoi and Vietnam is an absolutely constant feast for all the senses. Walking the streets is fun, if somewhat treacherous. The streets are filled with obstacles and we were always distracted by smelling the food being cooked on grills at every corner or soup being served from pots boiling on little braziers, seeing women selling fruit, parcels of rice wrapped in lotus leaves, herbs, live shrimp, fish out of baskets that look like they have just arrived from the farm not to mention listening to the constant barrage of traffic noise.
In the market we saw rice noodles being mixed, rolled and cut in much the same way as we make pasta. Imagine being able to buy fresh pasta daily that is made and cut to order. Down narrow, dim little alleyways with food piled high on both sides, there were cramped stalls full of dried fish, eggs of every shape and color, sausages wrapped in banana leaves, people cutting up huge blocks of ice and piles of skinny looking chickens. The Vietnamese are clearly more connected to their food and its production that most of us living in America.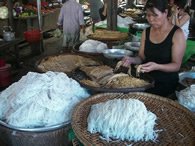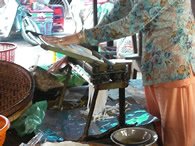 We loved the old city of Hanoi. I could have spent hours wandering, losing myself in the warren of old streets looking at the merchants. Each street had its specialty — this street was for the bamboo vendors, the next sold hats, the next street anything with blades — I bought a cleaver made from one sheet of steel, hand hammered.
Bobby Chinn's
Hanoi also has many restaurants to offer. The old French Colonial influence can still be seen in the vibrant cafe culture as well as some fine dining restaurants. We went more than once to the restaurant Bobby Chinn's, a hip place owned by San Francisco-trained chef, Bobby Chinn. The ebullient Chinn trained at Elka's and Postrio before heading off to Hanoi on the advice of his father who told him that Hanoi was the place to be. His menu reflects his time in San Francisco but does include some more traditional Hanoian fare. It is a great place to sit at lunch and look through the window and people take their exercise by the beautiful Hoan Kiem Lake while the ever present scooters stream by. It was here that we had the most amazing rice pudding for dessert. We had to go back a second and third time just to taste it again.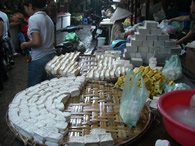 One of my favorite places was Cha Ca La Vong. Situated in the center of the bustling, cramped (but endlessly fascinating) old quarter, Cha Ca La Vong is a bare bones restaurant with only one dish on the menu. That item is Cha Ca – a golden fried fish with aromatic herbs that is brought to the table in a battered old frying pan on a charcoal brazier with the fish sizzling and spitting. It was accompanied by bowls of rice noodles, herbs (cilantro, Asian basil, dill and green onions), peanuts and fish sauce. Delicious!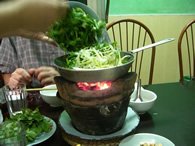 Spices Garden
We went for one elegant meal at the Spices Garden in the renovated old Metropole Hotel. Chef Didier Corlou, originally from Brittany has lived and worked in Vietnam for many years. His tasting menu comes in two styles, Traditional Vietnamese or Innovative. We sampled both. Corlou makes his own goat cheese from goat's milk that he gets from a farm in the mountains north of Hanoi, one of the first fresh cheeses in Vietnam if not Asia.
After Hanoi we traveled to Ha Long Bay, Hue and Hoi An. On our way to Ha Long Bay, we stopped to visit a small farm. Every family has an acre of rice, a pond with fish (carp), some chickens and a couple of pigs all that is needed to sustain the family and have some left over to sell in the city. One of my favorite appetizers that we had in both Hue and Hoi An was Bo La Lot. La Lot is an aromatic leaf, not unlike a grape leaf, that is used to wrap some seasoned ground beef and then grilled. The leaf is said to have a narcotic effect. I didn't notice any buzz but I found it to taste not unlike shiso with a hint of anise.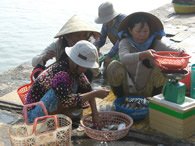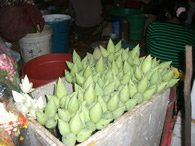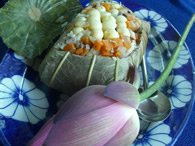 Vietnam is a country I've wanted to visit for a long time. I'm happy that I was able to go while much of the traditional culture remains. It is easily distinguished from the new culture, much influenced by the West, which will soon become the norm.
Frances Wilson
Culinary Instructor of the Fulltime Program