There is nothing more satisfying then picking a juicy ripe tomato from the vine that you have grown in your own organic garden. Living in Tiburon, with its warm dry summer days and foggy and cool nights is optimum for growing everything from rainbow chard to bing cherries. My family and I feel fortunate to live amid a land of plenty here in the Bay Area, where a huge organic movement has developed and is spreading throughout our country.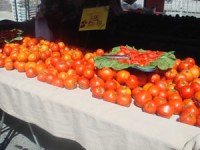 This past weekend's hugely successful Slow Food Nation Conference is an example of how the organic food movement has developed. One of the largest celebrations of American food in history, the conference was a push for our nation to support local certified organic food producers to encourage the protection of the environment and the production of healthful produce, dairy and meats for the public. We are seeing that the key factor to a more responsible way is the consumption of locally grown foods, which then ensures long term sustainability for local farms. The selling to local vendors and restaurants allows farmers the opportunity to also develop social sustainability.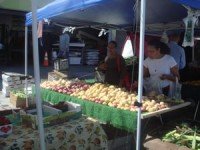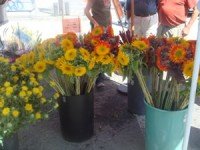 My collaboration with Marin Magazine to write Organic Marin – from Land to the Table conveys this passionate belief that local food fosters community. This book represents a movement that is reverberating around the globe, demanding a more thoughtful, less wasteful and healthier approach to life. A beautifully photographed cookbook organized by season to highlight the importance of eating fresh, seasonal food, Organic Marin profiles 16 of America's most esteemed organic farmers and features recipes contributed by more that 25 of the Bay Area's most popular restaurants. Proceeds from Organic Marin support the school lunch program of Marin Organic, a non-profit organization whose mission is to support local agriculture in Marin County. The lunch program helps serve 12,000 lunches a week with food grown in our county.
Buy Farina's book at Amazon.com.
Watch Farina's video on The View from the Bay.