What I do whether I am in San Francisco, Connecticut, or Toronto is buy most of the food (usually it is the same every year) lay it out attractively, and have fun with my guests.
If you want to follow my plan of an English cocktail buffet, you need to purchase the following:
Half a Stilton cheese (and Carr's Water Crackers)
Tangerines, Walnuts (in the shell) and red Apples
Half a Smoked Salmon (served on Brown Bread) and Lemons
A Roast of Beef (served on Buttered White Bread),
The Ingredients for Warm Artichoke Dip with Pimenton
A case of Nouveau Beaujolais, and a case of Pellegrino
The food will look more appealing if it is served closer to eye level than flat on a table and if the items are crowded together so that it gives the impression of abundance. What I like to do is put wooden wine boxes under a tablecloth to raise the food up. I recommend arranging the dishes so that it is very clear that the cheese goes on crackers and the smoked salmon on bread and so forth. You can set another counter or table with wine glasses, wine, mineral water and wine openers for guests to help themselves.
I serve the walnuts near the Stilton and sometimes put narrow candles in red apples to add to the mood. Be careful not to serve too many dips or things that need to be cut into, because usually the eater has a glass in the other hand. I am particularly fond of eating with fingers; in other words not using plates or forks. If you do, people are likely to look for a place to sit down and never get up again. I think it's more fun to mingle.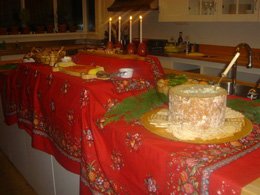 You may want to have people come from 6 to 8 p.m. so they can go on to another party or on to dinner elsewhere. Or, you could have people stay for a a hearty soup with fruit for dessert. Either way it is important that you have everything done ahead so you can enjoy your friends.
My version of Spiced Beef,a tradition in Toronto, is to make a dry rub of 1 Tbs. brown sugar, 1 Tbs. cloves, 1 Tbs. allspice berries, 1/2 nutmeg, and 1 bayleaf ground together in a spice grinder, rubbed on a 4-lb. sirloin roast, and chilled overnight. The next day, roast the meat in a 375-degree oven until it has an internal temperature of 120 degrees. It can be made a few days ahead and is best served at room temperature (thinly slice on buttered bread or toast).
For a real recipe, try the Warm Artichoke Dip with Pimenton below. Pimenton are roasted peppers that are packed in olive oil. Actually, you can substitute any red peppers as long as they are not stored in vinegar.
Whether you are staying home for the holidays or travelling to be with family and friends, please use my plan to entertain simply and really have fun entertaining! A very Merry Christmas and Happy New Years to you from all of us at Tante Marie's.