Until today, I never knew how easy it is to make Popovers! This recipe from BLT STEAK is fantastic! I bought non-stick popover pans from Sur La Table. If yours do not have a non-stick surface, you need to make sure to brush melted butter in the heated pans before baking the popovers!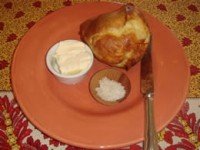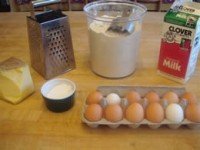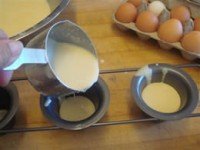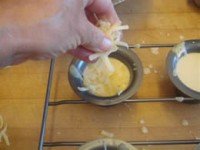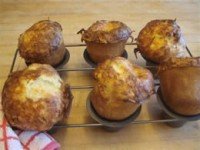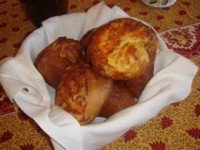 Ingredients
4 cups milk
8 eggs
4 cups flour
1-1/2 Tbs. salt (heaping)
2-1/2 cups grated Gruyere cheese
Directions
Preheat the oven to 350 degrees. In it put two popover pans (enough for 12 popovers.)
In a saucepan, warm the milk over gentle heat.  In a large bowl whisk the eggs until frothy. Slowly whisk in the milk (so as not to cook the eggs.)  Measure the flour and salt into a sieve and sift onto the egg mixture. Combine until mostly smooth.
Remove the popover pan from the oven. While the batter is still slightly warm or at room temperature, fill each popover cup three-quarters full. Top each popover with about 2-1/2 Tbs. of the grated cheese. Return the pan to the oven and bake for approximately 50 minutes, rotating the pan half a turn after 15 minutes of baking.
Remove the pan from the oven, remove the popovers from the pan, and serve immediately.
Makes 12 popovers.
(At BLT STEAK in Washington DC popovers are brought to every table to start the meal.  With them is a container of butter, a shaker of sea salt, and a little copy of this recipe.  Thank you BLT STEAK.)