The current trend is cooking with (and tasting) the best quality bittersweet or semi-sweet chocolate. You will find that this easy-to-make dessert really shows off the flavor of Scharffenberger 70% bittersweet chocolate. These tarts can be made up to a week ahead and kept in the refrigerator. Buono Appetito!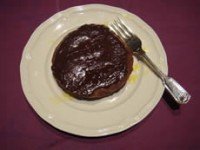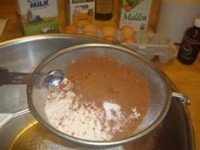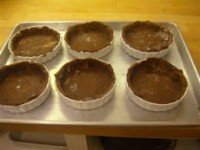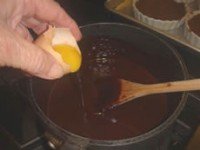 Ingredients
1-3/4 cups all-purpose flour
1/2 cup unsweetened cocoa (natural)
1/2 cup sugar
1/4 tsp. coarse salt
7 oz. (scant 1/2 lb.) butter
2 egg yolks
1 Tbs. heavy cream
1/2 tsp. vanilla
2 cups heavy cream
1/2 cup sugar
7 oz. bittersweet chocolate (60 to 70%), coarsely chopped
1-1/2 oz. milk chocolate, coarsely chopped
4 egg yolks
Sea salt (preferably grey)
Extra virgin Italian olive oil
Directions
To make the pastry, sift the dry ingredients together into a large bowl (the flour, cocoa, sugar, salt). Cut in the cold butter with a pastry blender or two knives. When the mixture has the consistency of oatmeal flakes, make a well in the center, and into it put a mixture of egg yolks, heavy cream and vanilla. Bring this together with the fingers of one hand and then press it out onto a board to blend. When almost mixed, wrap the dough in wax paper and chill for 20 minutes. Preheat the oven to 375 degrees.
With a rolling pin, roll out the dough until it is about 3/8 inch thick. Cut six rounds from the dough, and line six 5-inch little tart molds with the dough, pressing into the corners. Bake in the preheated oven for about 20 minutes. Remove and cool on a rack.
To make the filling, heat the cream with the sugar in a medium-size saucepan, when it bubbles around the edges, turn off the heat, stir in the chocolates and continue stirring until all the chocolate has melted. Let cool for about 10 minutes. With a wooden spoon stir in the egg yolks, one at a time. Spoon this filling into the partially baked tart shells, and return them to the 375 degree oven for about 15 minutes, or until the filling is slightly firm but still trembling in the center when shaken. Let cool.
To serve, gently lift the tarts from their molds and place on dessert plates. Drizzle the tarts with the olive oil and sprinkle with sea salt.
(Recipe adapted from A16 FOOD & WINE
by Nate Appleman and Shelley Lindgren, Ten Speed Press)
Serves 6.