Remember this: Tante Marie says there is no such thing as non-fat yogurt. Even low-fat yogurt is pretty bad — it is really a pudding mixture filled with chemicals and additives. Real yogurt needs to be made from whole milk — cows, sheep or goats — with a culture of bacteria. It is delicious — if you are watching your fat intake — eat less (or none at all) — but don't kid yourself that low-fat or non-fat yogurt is a natural food. My favorite dessert when I have people for dinner is to cut up fresh fruit and place it in a wine glass or glass bowl and pour over maple syrup or honey, with pecans or walnuts. You need to think about what flavors go with the fruit. This could be served with a simple cookie — enjoy!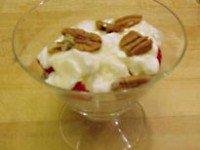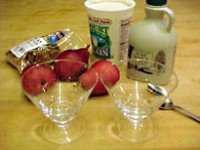 Ingredients
2 ripe pears, Bartlett are fine
1-1/2 cup full-fat yogurt, maple or plain
1/4 cup maple syrup
1 oz. fresh pecans
Directions
Slice the pears into 4 pretty glass dishes. Moisten the pears with a little maple syrup. Spoon the yogurt over the pears, pour on the rest of the maple syrup, sprinkle with pecans.
Serves 4.