Here is a fun, delicious comfort food for spring! It consists of roasted asparagus surrounded by crispy bacon with a sauce of truffle vinaigrette. You can serve on lightly toasted bread or not!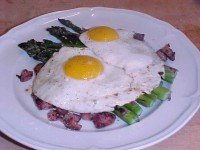 Ingredients
2 lb. thin green asparagus
olive oil
coarse salt
freshly ground black pepper
4 slices dense white bread
4 oz. thickly cut pancetta or 4 oz. thick-cut bacon, blanched
2 Tbs. champagne vinegar
2 tsp. truffle oil
4 Tbs. extra-virgin olive oil
8 eggs
Directions
To roast the asparagus, preheat a oven to 450 degrees. Cut the tough ends off the asparagus, coat with olive oil, sprinkle with salt and pepper and roast until tender, about 7 minutes until tender. Toast the bread until golden.
To prepare the lardon, cut the pancetta or bacon into 1/4-inch dice and cook over a medium heat until brown and crispy.
To prepare the vinaigrette, in a small bowl mix a teaspoon of the pancetta or bacon fat with the vinegar, truffle oil, and olive oil. Season with salt and pepper. In the same pan, fry the eggs sunny-side up. While the eggs are cooking, put the bread on 4 warmed plates, surround with the lardons, cover with the asparagus, spoon over the vinaigrette, top with two eggs for each plate. Sprinkle with salt and pepper and serve.
Copyright © Mary S. Risley