Here is a recipe from Carlo Middione the chef/owner of Vivande on Fillmore Street. It chicken served with Tuscan bread salad with fresh tomatoes. Yum!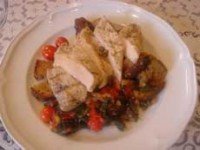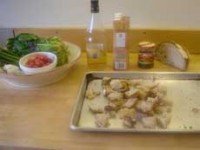 Ingredients
4 whole chicken breasts, or 8 halves
1/2 lb. spinach, Swiss chard, Red Russian Kale or a mixture of young braising greens
1 tsp. minced garlic
2 Tbs. olive oil
salt
1 box red cherry tomatoes
1/2 lb. stale crusty country bread
1/2 cup scallions, chopped, white and green parts
1/4 cup drained capers
1/2 cup good quality white wine vinegar
1/4 cup good quality chicken stock
Directions
Cut each breast in half so you have eight pieces. Lay them on a counter, cover with a piece of wax paper, and pound with a meat pounder until about 1/4 inch thick. Rub both sides of each piece of chieken with olive oil, and sprinkle with salt and pepper.
In a medium-size saute pan, heat the remaining olive oil with the garlic, cook, stirring for 2 minutes. Add the clean greens, cover briefly, and cook stirring, until wilted, about 4-5 minutes. Remove from heat.
Cut the cherry tomatoes in half, salt lightly and bake in a medium saute pan in a 350 oven for about 10 minutes, until partially wilted.
Remove the pan from the heat, remove the cherry tomatoes from the pan, into the pan add the scallions with 1 Tbs. olive oil. Cook over moderately high heat until the scallions are softened, about 3 minutes. Add the vinegar and stock and boil briskly for 2 minutes. Toss in the bread cubes all at once. Season liberally with salt and pepper. Add the tomatoes.
With a pan of warm greens, and a pan of warm tomato-bread salad, it is time to grill the chicken breasts, over a charcoal fire, or in an iron pan with ridges, grill the chicken pieces, 4 minutes on each side. Place the greens, tomato mixture and chicken on individual plates and serve.