It's not very often that I get to one of my favorite bakeries in San Francisco, TARTINE, at the corner of 18th Street and Guererro. What they call Morning Buns were first made with scraps of croissant dough rolled up with sugar and orange zest. They are so good! Here is my interpretation of Tartine's Morning Buns. They would be great fun to make with kids for Mothers or Fathers Day breakfast!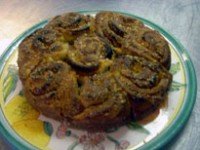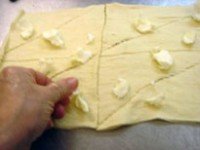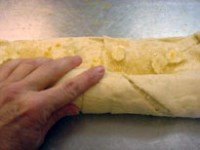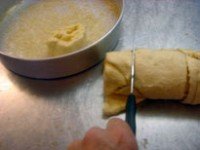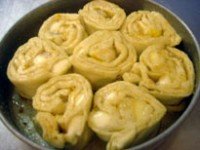 Ingredients
2 pkgs. Pillsbury Crescent (dinner rolls)
zest from one orange
1/2 cup washed raw cane sugar
1/2 stick (4 Tbs.) butter
Directions
Preheat oven to 400 degrees. Generously butter a 9-inch round cake pan and sprinkle with a little of the sugar.Mix the zest into the remaining sugar.
Remove the dough from one package carefully trying to keep it in one piece. Lay it longways on a flat surface. Smear half the butter over the layer and sprinkle with half the sugar. Cover with the dough from the other package. Smear on the remaining butter and sprinkle with the remaining sugar. Roll away from you into a long roll. Cut into 8 rounds, turn the rounds so that the open side is up and place in the prepared cake pan. Bake in the preheated oven until golden brown, about 30 minutes. Sprinkle with additional sugar when warm.