There are two kinds of persimmons available now in the markets. The little hard flat ones are Fuju and can be sliced and put in salads. The darker red ones with the pointed ends are Hachiya and must be very soft (almost mushy) before them can be added to cake batters. Here is a recipe from my friend Janet Grieg who brought me a bag of beautiful Fuju persimmons this weekend it is definitely autumn comfort food!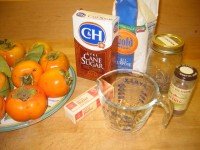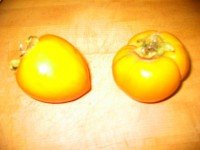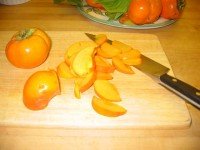 Ingredients
6 ripe Fuju persimmons
3/4 cup flour
1/2 cup packed brown sugar
1/2 tsp. ground cinnamon
1/4 tsp. ground nutmeg
6 Tbs. butter
1/2 cup coarsely chopped walnuts or almonds
Directions
Lightly butter a 8 x 12-inch glass baking dish. Thinly slice the persimmons and fill the dish with them.
In a bowl mix together the flour, sugar, cinnamon and nutmeg. Cut in the butter with your hands or a pastry cutter. Stir in the walnuts. Spread this streusel like mixture over the persimmons.
Bake in a preheated 375 degree oven until golden brown on top, about 45 minutes. Serve warm or at room temperature with lightly whipped heavy cream.
Thank you Janet!
Serves 6 to 8.