This is a fun and easy recipe you can make with leftover bread, crusty or sandwich, and leftover cooked pumpkin, butternut squash, or sweet potatoes. It doesn't matter if the sweet potatoes already have marshmellows or spices in them.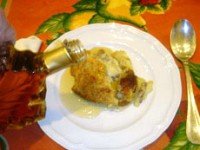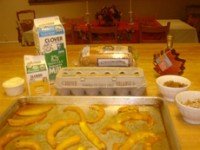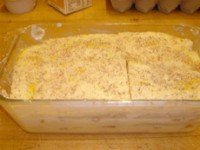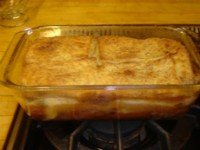 Ingredients
Butter for the pan
8 slices white sandwich bread
2 cups cooked pumpkin puree, butternut squash, sweet potatoes, or yams
2 Tbs. maple syrup
1/3 cup walnuts, coarsely chopped
1/3 cup golden raisins
4 egg yolks
1 to 1-1/2 cups milk
1/2 cup sugar
1/2 cup heavy cream
plenty of freshly grated nutmeg
maple syrup for serving
Directions
To make the bread pudding, generously butter a 5 by 10 by 3 inch bread pan. Remove the crusts from the bread and cut in half lengthwise. On the bottom of the pan, put a layer of bread, on top of that put a layer of pumpkin puree mixed with maple syrup. Continue with another layer of bread, another layer of pumpkin puree, and top with a layer of bread.
Mix together the yolks, milk, sugar, and heavy cream in a large measuring cup. Pour this custard mixture in and around the layered bread. You may need to add milk so that the liquid comes almost to the top of the bread. Cover with nutmeg, and bake in a preheated 325 degree oven until the bread pudding is lightly browned, about 1 hour. Let cool at least 20 minutes before serving. Serve with warmed maple syrup.
Serves 6.