The best thing about this time of year is the beautiful young strawberries coming into the market. Strawberries are so delicious cooked with rhubarb, vanilla and orange. The lattice cookies that go on top of this dessert can be made ahead and stored in a tin.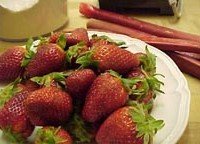 Ingredients
2-1/2 cups flour
1/8 tsp. salt
1/3 cup sugar
1 cup butter (1 stick)
1 large egg
1 tsp. vanilla 1 lb. strawberries
1 vanilla bean, split
1/2 cup sugar 1 lb. rhubarb chunks
2 tsp. cornstarch dissolved in 1 Tbs. water
1/2 tsp. orange zest
1/4 tsp. cinnamon
1/2 cup sugar
Directions
To make the pastry, place in the container of a food processor the flour, salt, 1/3 cup sugar, and 1 cup butter cut in pieces. Process until mixture resembles breadcrumbs. Add the egg mixed with 1 tsp. vanilla and a few drops of water. Process until the dough forms a ball. Chill until ready to use.
To make the strawberry juice, cut the strawberries in half and remove the stems. Place the berries, vanilla bean and sugar in a saucepan and cook slowly until soft. Mash with a potato masher.
To make the compote, to the strawberry mixture, add rhubarb, cornstarch, orange zest, cinnamon, and sugar, and continue to cook over medium heat until the rhubarb is soft, about 20 minutes.
Roll out the dough on a well floured surface to about 1/4-inch thickness. Cut into 6 inch strips about 1/2 inch wide. Place the strips on a baking sheet lined with parchment, and weave 3 pieces horizontally and 3 pieces vertically. Chill if the pastry gets soft. Sprinkle with sugar. Bake in a preheated 350 degrees oven until golden brown.
To serve spoon the rhubarb-strawberry mixture in the center of a soup bowl, spoon on vanilla ice cream or lightly sweetened whipped cream, and place the lattice on top.
(Recipe adapted from Janet Rikala, Former Pastry Chef of Postrio in San Francisco.)
Serves 4