This is an easy and delicious dessert for autumn! Always buy good quality whole milk yogurt like Nancy's, Pavel's, Stoneyfield, or Brown Cow.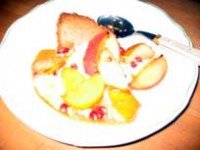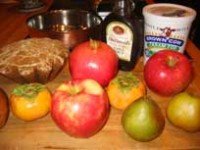 Ingredients
2 Tbs. butter
1 apple
1 quince
2 fuyu persimmons
seeds from 1/2 pomegranate
1/3 cup good maple syrup
a few grains of salt
4 slices spiced poundcake
1/2 pint honey yogurt
Directions
Melt the butter in a medium saute pan over medium high heat. Add apple and quince and cook for about 2 minutes, stirring constantly. Add the persimmons and cook 2 more minutes, add the pomegranate seeds and cook 1 more minute. Add the maple syrup and salt and cook 1 more minute.
Slice the spiced poundcake and place each slice on a dessert plate. Spoon over two tablespoonfuls of yogurt, and spoon over the warm fruit mixture.
(Recipe inspired by Elizabeth Faulkner, Pastry Chef of Rubicon.)
Serves 4.