Everyone loves ribs especially on holiday weekends! And, everyone will love your ribs "which can be totally made ahead and reheated or grilled outdoors at the party."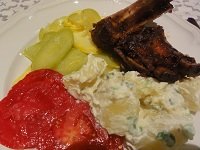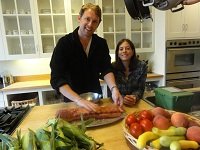 Ingredients
2 racks pork ribs (about 5 lb.)
6 Tbs. coarse salt
2 Tbs. brown sugar
2 Tbs. smoked paprika (pimenton)
1 Tbs. dried oregano
1 Tbs. black pepper
2 tsp. garlic powder
1 tsp. onion powder
1 tsp. dried thyme
1 tsp. ground cumin
1 tsp. dried mustard
1 tsp. celery seeds
1/2 tsp. cayenne
1/2 tsp. white pepper
Directions
Lay the ribs on a large piece of foil meat side up.
Mix together all of the spices. With your hands, rub the spice mixture onto both sides of the rack of ribs. Cover tightly with foil, place on a roasting pan, and roast in a 300 degree oven for about 2 hours. (These can then be stored in the refrigerator overnight or longer on the baking tray with the juices.)
When ready to eat, preheat a charcoal or gas grill. Unwrap the ribs and place them on the on the hot grill, turning occasionally, to get nice grill marks and a nice smokey flavor. You can also baste with the juices from time to time. They should be done in about 30 minutes. Remove from the grill and let rest 10 minutes, before cutting up and serving.
Spice Rub Recipe from Chris Geremia, Chef of RADIUS, and method of cooking from Jaime Dominguez, great home cook.
Serves 8.