One of the current trends in cooking is long-slow roasting. When we ate Titi's slow-roasted pork on a summers evening on an organic farm on Salt Spring Island, B.C., it was absolutely unforgettable. Here is her recipe for you. You may have to order a shoulder of pork (also called Boston butt) from the butcher; and, of course, you will have to cook it well ahead. Make sure to use only some of the rub as the recipe directs — all the rub will make the dish too salty; and be sure not to put in on the convection mode of the oven or it will cook too quickly. I served it last night to a group of old friends with a gratin of potatoes and cooked spinach, both of which can be made ahead. Good Cooking! And, remember food always tastes better if it is grown locally and served in season!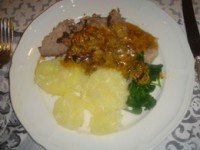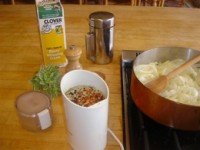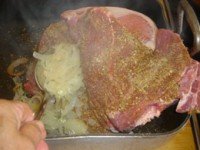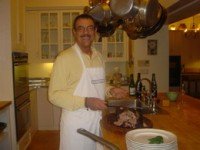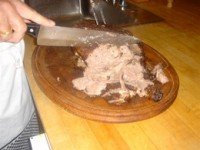 Ingredients
Rub
1/4 cup fennel seeds
1 Tbs. coriander seeds
1 Tbs. black peppercorns
1 1/2 tsp. red chile flakes
2 Tbs. coarse salt
2 Tbs. ground cinnamon
3 large garlic cloves
Pork
1/4 cup olive oil
4 onions, halved and sliced
1 whole pork shoulder, boned, 7 to 8 lbs.
1/4 cup spice rub
1 cup heavy cream
coarse salt and freshly ground black pepper
10 sage leaves, coarsely chopped
Sauce
1 cup cream
8 to 10 sage leaves, coarsely chopped
collected juices from the roast
Directions
To make the rub, put all the ingredients listed into a large mortar or spice mill and pound with a mortar or blend until it makes a paste.
To prepare the roast, in a frying pan saute the onions for a few minutes in the olive oil over medium heat. When they start to become tender and a little browned, add the sage. Continue to cook them for another minute or two.
Preheat the oven to 275 degrees. Rub the roast inside and out with the rub. Lift the flap where the bone was and push in as many onions as you can. Place the roast in a roasting pan, surround with the remaining onions, add a cup of water and roast 7 to 8 hours, basting every couple of hours with the juices not the onions. If it seems dry, add water. After about 6 1/2 hours, add the cream to the roasting pan.
While the roast is cooking, reduce the remaining cream in a small saucepan over medium heat, being careful that it doesn't boil over. Add the sage after about 6 to 8 minutes. Set aside.
Remove the roast from the pan and keep warm, tented with foil, to rest while finishing the sauce. Tilt the roasting pan and skim off the fat. Pour the contents of the roasting pan into the sauce pan of reduced cream. Season to taste. Keep warm.
Let the pork roast rest at least 15 to 20 minutes before carving. Slice into thick slices. Pile on a warm platter and drizzle over some of the sauce, being careful not to cover the beautifully browned roast. Serve with roasted potatoes and sauteed spinach.
Recipe Serves 12
---
Potato Gratin with Manchego Cheese
Ingredients
3 lbs. medium to large Yukon Gold potatoes
coarse salt
1 lb. Manchego Cheese
Directions
Put the potatoes in a large pan, covered with plenty of cold water. Add a tablespoon of salt. Bring to a boil over high heat and cook until the potatoes are tender when pierced with a fork. Drain the potatoes in a colander and shake out the excess moisture.
When the potatoes are cool enough to handle, peel them, and slice them thinly. Spread in a rectangular glass or ceramic baking pan which has been lightly buttered. Over a thin layer of potatoes, spread a layer of shredded or thinly sliced cheese. Continue layering potatoes and cheese, ending with a cheese layer. Twenty minutes before serving put the potatoes in a 450 oven until the cheese is lightly colored, about 15 minutes.
Serves 4
Copyright © Mary S. Risley
---
Tante Marie's Spinach "En Branche"
Directions
To serve this with spinach, simply drop about half a bunch of spinach per person into boiling salted water. When the spinach is half wilted, remove it clumps from the water and place individually on a pan lined with paper towels. The whole pan of spinach bundles can be reheated for 3 minutes and then served.